Ships Blog
---
---
---
Date:
Sat Jun 04 22:05:00 UTC 2022
minor refit
Work and more work
The last few days have been busy. We have removed and stripped the boom to fix the outhaul and re-build the reefing system. The old outhaul was a 6/1 with two blocks but the rope used was oversized double braid and it twisted up inside. It was impossible to move in or out. We have rebuit it with single braid dynema and it's much smoother and will not twist the same way. We are also moving the bail/blocks to the end of the boom to facilitate moving the traveler to the deck in front of the wheel back to its original location.
I have re-oiled the decks again we are now at 3 1/2 gallons of teak oil and I think it's finally soaked in.
Yesterday it rained hard and we developed a small leak around the deck water fill fitting/through deck. So today I took it apart and re-bedded it properly. I also re-caulked more of the teak where I found minor water ingress. This is something that you just have to constantly keep up with.
This morning I was looking at the through hull for the knot log. We purchased new nmea2000 wind,log,depth sending units and B&G gauges. But as I was checking the size I found that the log was not even fastened into the through hull. vibration/pressure or whatever could just bounce it out and sink the boat. Needless to say we are going no where till that is fixed. I'm a bit loath to mess with it when the yard is empty as if I have a problem I can't call anyone to bail me out. I'll wait till Monday to mess with it.
Sam has been recording videos so we will be posting them as soon as we edit them.
---
Date:
Sat Jun 08 04:05:00 UTC 2022
Tranny
Transmission Clatter
We have a ZF transmission and lately when in gear idling forward there is a pretty noisy clatter that set up. So worried about a dampner plate I decided to pull the transmission and have a look...
Remember I was talking about the sun cover. Here's a great picture of the deck cover lifted up and acting as a sun shade. The starboard side is south so I have it leaning over more to that side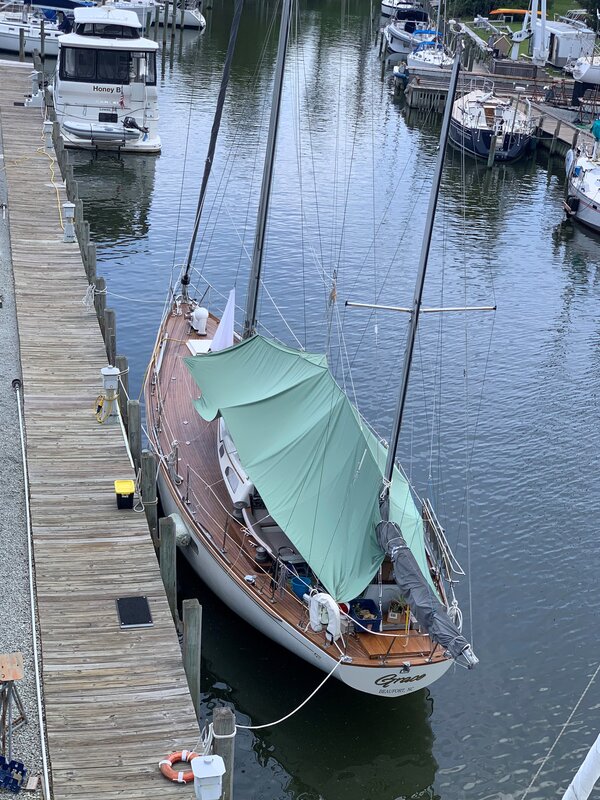 Unfortunately at the moment the boom is off Grace getting worked on as we do our re-rig modifications.
So... transmission... Sam and I took out the drive shaft and the transmission to look at the dampner plate to make sure it was ok. it was brand new. So I called a ZF/Hurth distributor where we purchased the transmission. Harbor Marine in Washington state is a wonderful place with great people and amazing customer service. I talked to Mike over there and he sent me a document from ZM/Hurth about this model and gear clatter. He spent nearly 30 min on the phone with me discussing the problem. So Sam and I put it all back together and re-aligned it. The clatter is not gone but it is significantly improved. There is more we need to do. Like put in the proper dampner plate recommended by Hurth and also working with my one weak cylinder that has a tick to it. But at the end of the day ZF/Hurth says it does not damage the transmission because it's not under load at idle. So we feel much better. It was a long day and we had the entire boat taken apart it seemed. But we know now how to replace the transmission on this boat and we have a 2 year warranty on the transmission is if something happens we're ok. Anyway, we had egg burritoes for dinner, Sam cooked and Potato salad for lunch. Hannah will be home soon and tomorrow we talk to some canvas folks about new bimini and dodger. Nite nite!
---
Date:
Fri Jun 10 04:09:00 UTC 2022
Red Sails!
We have good sails!
We got great news today! Gil and Laura from Hodges Street Sails in Oriental just let us know that our older tanbark red sails are either servicalbe or repairable! This made our whole day! The old red sails will look so cool with the teak decks and classic lines. We have a full set of sails now and spares as well. I can't wait to see pictures of the Grace coming into port with these beautiful red sails flying.
Here at Zimmerman's a Hinckley B-40 came in for work and parked right in front of us. Her name is Graca... Beautiful boat, by the way, with gleaming bright work, a shiny blue hull and a new mast.
---
Date:
Mon Jun 13 02:42:00 UTC 2022
Wires and NMEA2k
Electronic stuff...
So today we hooked up the new log,depth,temp sensor. It fit perfectly in the existing through hull. But, of course there was not a flapper in the old unit so there was a nice stream of water into the boat. I kept it undercontrol with rags so we didn't have water hitting the ceiling. Then we pulled a NMEA2k backbone cable and a piece of coax through from the aft starboard lazerette and tested it. All is working perfectly. I've been trying to figure out how to get the masthead unit wired and I think I have it. The B&G310 uses NMEA0183 and a 5 pin connector. I can use 4 wires of the existing cable and just put cable ends on it. I'm hoping that's all it takes.
Then we sprang another leak, from a pex line, of course. It was under the forward sink and was spraying water in a tiny stream that overnight filled about 3 gallons in the bilge.
---
Date:
Sat Jun 18 12:17:00 UTC 2022
Running Rigging
Learning to splice and put eyes in lines.
The last few days have been sweltering. High humidity and high heat are the rule lately. But in the evenings it rains and cools down. We have a new main halyard winch and the traveler is moved to the back bridge in front of the wheel. We changed the line on the traveler to regatta braid so it doesn't twist and bind up in the blocks of the traveler. The original traveler was 2:1 this is 4:1 and the original sheet was 3:1 and we're going with 4:1. I did find out what the cleats and the pad eyes on the back bridge were for and we're going to use the simple method instead of the flop block and cam cleat. We tested the pad eye to the cleat and it's not quite as convenient but it is more original. We also made a new main halyard and removed all the wire. Mark at Zimmermans is doing a lot of the work and I'm learning from him.
We are going to Wilmington today to pick up some ultra straight grain Sitka spruce for the spreaders. I can't wait to be able to sail Grace again! I'm hoping they will be done and ready for a sea trial before the end of the month. Those tanbark sails are going to be amazing.
We have met many wonderful folks while here at Oriental! I could list all your names, but this is a public forum, so you know who you are! We have had many of long wonderful conversations and everyone has been so kind.
---
Date:
Mon Jun 20 15:38:00 UTC 2022
Clipped Wings
Spreaders being removed
Today we pulled the shade canvas off and we're broiling under the sun. One spreader is off and the second one will be removed shortly. We have the Sitka spruce in our hands thanks to Matt at Woodies Woodshop in Wilmington and we can start remaking the spreaders. The ends where the standing rigging attaches have a crack in the stainless on one side and are peened on with bronze rivets. http://sailingwithgrace.com/images/albums/repair/220620_spreaders02.jpg