Ships Blog
---
---
---
Date:
mon July 04 03:44:00 UTC 2022
Spreaders
Finished the spreaders
On the 2nd we watched the fireworks and went to the Croker fest in Oriental. It was a fun day. I also have finished the spreaders so they can be mounted this week. The tops are white and the bottoms are clear polyurathane. I had to do them twice because I painted the bottom white by accident last time. So I lost about a weeks work. Rather than deal with splotchiness and sticky poly, I just stripped them and sanded and started over.
I also spent more time with the sun covers. I think I have finally decoded how they fit but I'm still not completely sure. It is not as simple as it seems. It's a serious puzzle.
Also last week we finished the instrumentation behind the binacle. The original one was so tall that Hannah could not see over it. We bought a new B and G Zues 3S 9 inch chart plotter, a Triton2 display and all new nmea2k sensors etc. We are also working on the nav station completely re-building it.
Yesterday someone hit the boat!!! The damage is not severe but it will be several thousand dollars to fix. He just backed right into us and then when he gunned the motor forward he swung the stern of his boat into us a second time. The Fisheries and Game officer came out to do a report today and take pictures. Two other people saw the whole affair and are going to write statements. I'm sure his insurance will pay but it's going to delay us more. GRRR.
---
Date:
Wed July 06 03:21:00 UTC 2022
Spreaders 2
Mounted the new spreaders
Today we mounted the new spreaders! I am so glad I went with the original wood rather than new aluminum ones. They're stunning. I worked with Hank to get the wood and design. He gave me the confidence to go ahead and do it the right way! Thank you Hank. Mark from Zimmerman's mounted them and Mike from Zimmermans roughed out the shape and measurements and hardware. I did the finishing and so here we are ready to go again... oops... not quite, we're still missing a boom and sails... ha ha ha...
Also today at the suggestion of Hank I joined the
Hinckley club
and uploaded my pictures and started a profile. I'm looking for examples of proper dodgers for the boat as we re-design the canvas.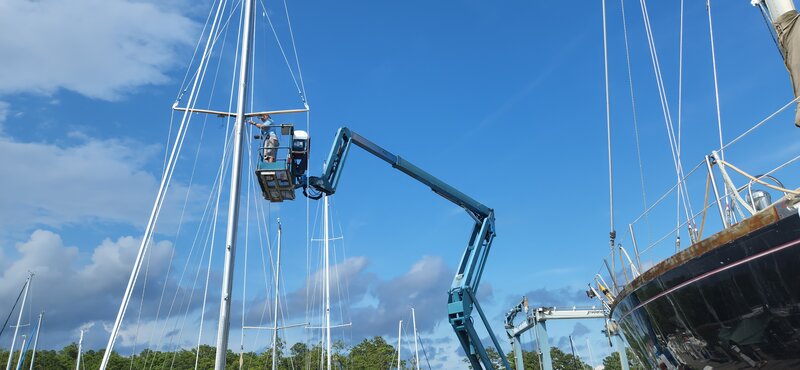 ---
Date:
Wed July 27 02:25:00 UTC 2022
Nav Station
Completed the Nav Station
This has been a busy couple weeks: We bought our new dinghy!. We got an Achillies Rib at 10.2 feet. And now the engine is on the fritz again. I rebuilt the carb but to no avail. It sat with bad gas for about 4 months and even after a disassembly and good cleaning I can't get it running right. I think I'm going to buy a new carb rather than fight with it more.
We joined Blackbeards and have been spending Sundays there. It's a lot of fun and I've gone sailing with other people on thier boats.
We completed the rebuild of the nav station! I'm still waiting on an icom 605 radio but we put in the older BG VHF v20 in the hole. Chris helped me design and cut out the wood and I finished it.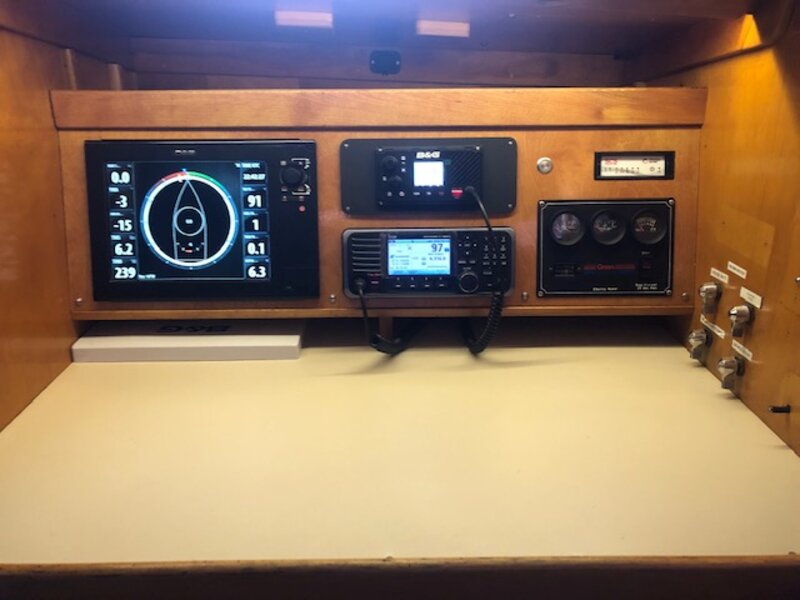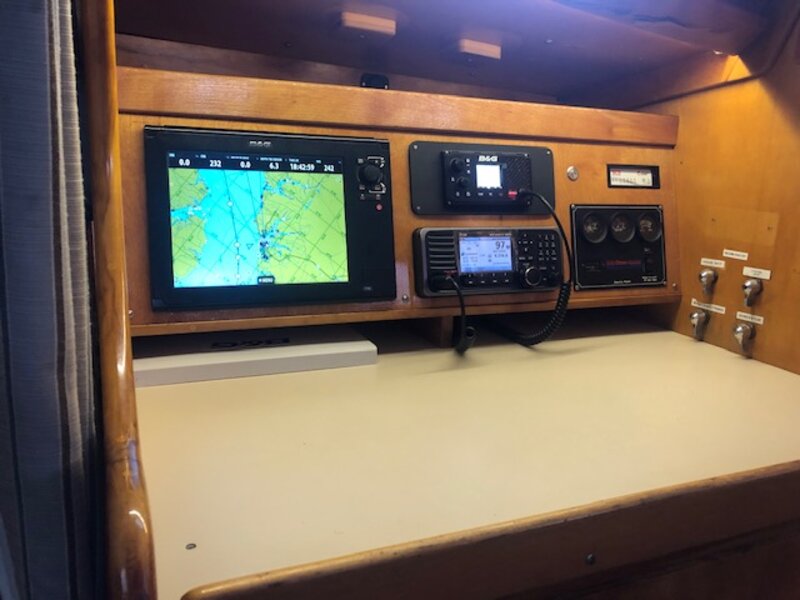 Things are going frustratingly slow. But we are making progress. We have completed the move of the traveler to it's original position and are waiting to plug the old holes. This list was long and everything takes time. We have a little rigging to do yet, but all the old wire halyard winches are replaced and the sails are being repaired. I can't wait to see her with tan bark sails and re-finished decks. She really will look like a different boat. According to Inner banks they should have the main sails done tomorrow. Getting ready to go off shore is not the same as getting ready for a weekend trip around the river.
We have met a couple new friends that I hope to be cruising with this winter heading south to Florida. Brad, Stacy, and Carley. We have spent a lot of time together the last couple weeks and have a lot in common. I helped them get their old washer/dryer out of their boat which was kinda fun. It was almost as hard has removing an engine through the companionway and over the side to the ground 14 feet below!
Sam and I have been spending a lot of time on the decks and brightwork. We re-scrubbed the teak with scotchbright pads and put on more teak oil. The brightwork we are doing with boiled linseed oil. I stripped and refinished the companionway boards also with boiled linseed oil. I've been spending time on old wooden boat forums and sights doing research and getting ideas. Hannah has also been doing the sam and we found rope bumpers yesterday. They are very cool looking. I think we're going to make some!
We've been going every couple days to
The Bean
to get ice cream and chai milk shakes! It's a wonderful break after a hot day working on the boat.
After we are finished at Zimmerman's/Deatons We are going for a sea trial with some of our new friends and then we're having a cocktail party at Mathew's point as well as Blackbeards. Then we're off on our first adventure! It' so close I can almost taste it! Get ready to follow us on a more daily basis as we leave! We're working on a youtube and patreon site. I'm hoping to have drone shots of the boat soon. stay tuned! Night Night!