Ships Blog
---
---
---
Date:
Mon May 8 01:32:00 UTC 2023
Exhaust
Broke Nanny
Today Sam and I took off the heat exchanger. The exhaust manifold gaskett was leaking something fierce and the engine would not start. After putting on the new exhaust elbow we were getting water out the bottom of the exhaust port. After several failed start attempts we decided to see where the water was coming from and so we drained and took off the entire heat exchanger. There is water coming in from the exhaust somewhere and the engine is having a terrible time starting. I'm not sure I can tell the whole story here. It's been a long day and I'm tired.
---
Date:
Thu May 11 03:57:00 UTC 2023
Nanni Head
Off with her HEAD!
Hi Folks, Today Sam and I took the engine apart and removed the head as well as the first leg of the copper exhaust. We are rebuilding the head and the exhaust. We tested the engine and confirmed the exhaust is leaking and confirmed that the engine has bad compression. So it's time for a head job and new exhaust. It took us till about 2:30 in the afternoon to get it all apart, tagged, bagged, and organized.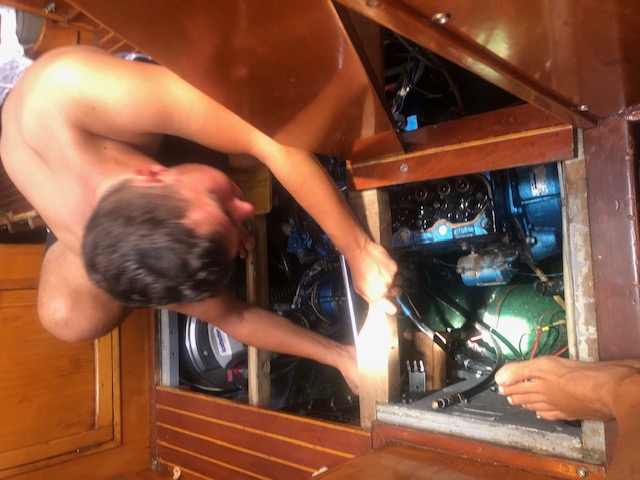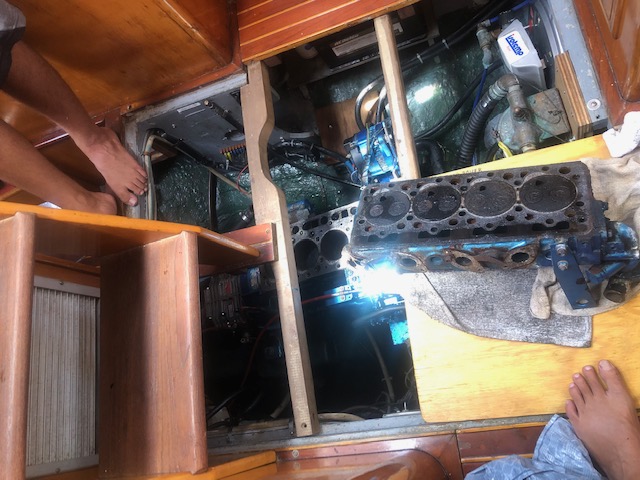 The die is cast now and we're here till it's finished. I'm going to fix the exhaust 1 section at a time till it stops leaking. I think it's only the first section actually. Anyway, The cylinders look fine and so it's probably just the valves. There are several other things we're going to fix and clean up while we're at it as well. Including cleaning up and re-painting everything. The delimna of whether to buy new or rebuild is always difficult because this 25 year old engine probably will not last as long as a new one and parts are going to be increasingly difficult to find but if I can get another 10 years out of the engine I'm ok with that. We were also considering taking it down to the block and replacing everything with Beta Marine parts and painting it red. That is still not off the table.
One of the things we found was that the glow plugs were not even hooked up. The wire was actually missing. Someone at some time in the past simply forgot to put the wire back on. I'm so dissapointed in people some times. I know we all are imperfect beings but some things baffle me sometimes when I find them. But with a 50 year old boat with work done by probably hundreds of people there's no telling all the uncommon fixes you find or forgotten things. In general I was quite supprised how good a condition the engine is in. It really was lightly used.
The exhaust is it's own problem. I have done a lot of research and a lot of thinking and there is no good way to get a water lift exhaust to work in this boat. I have to lift the exhaust nearly 7 feet and the best solution anyone can come up with is a double lift system that will steal a lot of power due to back pressure. I really think I'm going to have to rebuild the system from scratch with a new water jacket. To this end I have been looking at modular ways to accomplish this that I can build like lego blocks. I think I have a way to do it but it's probably going to be expensive. It looks like the best alloy for the job is 90-10 cupronickle. That's not cheap but overall not too if you consider the ability to configure it myself. I have come up with an adjustable angle making system that allows for a great number of various bends if necessary. Of course exhaust doesn't want to bend sharply so this makes it easier. I have considered patenting the idea if I can find the right people perhaps I can sell the system.
This evening Hannah and I spent talking to friends at the Tiki and along the dock. There are so many wonderful people here from all walks of life and a large number of them seem to be here for the same reasons we are. It's fun when you concentrate on commonalities rather than differences. It really makes this harbor special.
I am reading a few books/stories by James and Dena that are really quite wonderful. I'm so pleased to have found friends like them. We look forward to following their adventures. I'm not sure how we are going to leave this harbor because it's a magical place that brings people together rather than seperating them. This is what the world should be like... Well, nite nite for now.
---
Date:
Fri May 12 05:13:00 UTC 2023
More Good friends!
Sunsets and wind
Tonight we spent the evening with B and L! I wish we had spent more time with them earlier as they are leaving soon for the west coast. It's so much fun to meet like minded people who are sailing for the same reasons we are! We had black beans and rice with cabbage for dinner and then sat around in the cockpit till nearly midnight talking.
Earlier today I took the first section of exhaust to Bobcat and took the head over to Diesel Don's workshop. Tomorrow we are taking the valves out and sending the head off to be re-finished. I also spent several hours cleaning the engine and preparing it for the new head. I have a lot more to do but it was a start.
Mom and Sam spent the day ashore. Sam was working on the youtube channel and editing videos. Tomorrow he is going to do most of the work on the head at Don's shop.
---
Date:
Tue May 16 02:18:00 UTC 2023
Cornhole
Tiki and Friends
So Sunday, we went to Porky's for mother's day with Moral Compass and R and J from Skylark. It's an open air Tiki with really great food. And there was a Saxiphone player doing old jazz toons. We stayed around talking after dinner for nearly 45 min just listening to the music and hanging with friends. Saturday we went with Suprise to see Mother Ocean in Key Largo but it was closed so we went to a marine thrift store and I got an old gas can. In the evening we watched a movie at the upper tiki set up by Mango Sky. We watched The lost city of D. Today we played cornhole with friends and ordered the parts for the head. I'm still trying to figure out what to do with the exhaust and it's kinda driving me crazy doing the re-design and trying to figure out how to work it out. I really like the original design but I'm thinking there must be a way to have a newer water lift type exhaust and it would be a LOT cheaper by thousands of dollars if I can figure it out.
I know it sounds like all we do is work on the boat and there is some truth to that but we also spend a lot of time with friend just hanging out and talking, listening to music, and eating. It's a slow island kinda life here and if you get in a hurry you miss the beautiful sunsets, the Conch shells blowing, and announcing the sunset. And some of the most wonderful people. We are making life long friends which is new to us as we were formerly almost hermits by comparison.
Now we are back at the boat and running the generator as Hannah is making a late dinner. I use the generator time to update the website and check email. To keep the batteries charged we need to run the Generator about 2 hours a day. After dinner we we will be heading to bed because last night was a long late night for me talking to friends about some serious topics related to the current state of the world. There are times that we are afraid of what may be coming. The world is so unstable right now with wars, economic upheavel, and politics. This is a little oasis in the middle of a very crazy world and we like it here very very much.
---
Date:
Sun May 21 14:05:00 UTC 2023
Rain is here
Open Hatches
This week has been long and hot with the weather changing to the rainy season. So pop up thunderstorms are the rule. It seemed like it rained almost every day last week. Several boats in the harbor had their hatches open and were completely soaked! We were lucky. Hannah was on the boat when it started raining and though it was just sprinkling at the boat it was gushing at the marina so I called her and she got them closed before it dumped on us.
We did have the opportunity to chase the leak in the forward head by the water fill. Trying to find where the water is coming from, Sam and I took apart the forward hatch. That is not where the water is coming from. We did get to see the original teak however. It was amazing. And it shows how much we have lost and how thick it was originally. It looks like it was 1 inch thick an we have lost only abouty 1/4th inch. This is good news. That being said, the forward hatch had several missing and broken screws, which of course we replaced. It took us about 2 hours to fill the stripped holes with epoxy and string before putting new screws in.
Saturday night we had movie night at the the upper Tiki and watched Men in Black. Not many folks were there but it was a fun evening. Friday was Happy hour and we met some new friends, It was a fun evening. We did our Tortilla Sushi again and it went quickly.
With regard to the engine and exhaust in the continuing saga, We have received the rebuild kit for the head. We also have questions in to Beta Marine as to whether we can use their heat exchanger as the one we have we are told could not be fixed. The exhaust does have a confirmed leak in section 2 and more above that so we are removing each piece one at a time. We received the test copper nickle pipe to see if Bobcat welding can make it out of that material. I'm hopeful, but it's not going to be cheap.
We are, of course, quite worried about hurricane season as we don't have a functional engine. The current plan is to sail away without the engine and get out of it's way, but that is difficult, because you can never quite tell where it's going.
---
Date:
Mon May 22 02:36:00 UTC 2023
Prep work for exhaust
Cleaning the heat exchanger
The heat exchanger is in really bad shape and is very pitted and corroded. I spent several hours today cleaning it with a wire brush. I found some stuff called Lab Metal, that is a high temp epoxy with aluminum and zinc dust in it. I can withstand 1000deg F. I'm going to try and fill the erosion on the aluminum heat exchanger with it.
It was very hot today and of course it rained again this afternoon late. It's so hot we're not hungry. I did get water today 100gal in our new 50 gal folding rain barrel with a pump to get it up out of the dinghy.
---
Date:
Tue May 23 02:46:00 UTC 2023
Paint and Rain
Dinghy ride in the rain
Today I got a call on the radio that a boat in the harbor needed help so I joined 2 other boats to go tow them into the harber to their ball but it was raining cats and dogs so I got soaked. He had a fuel leak and his bilge was full of fuel so he didn't want to run the engine till he cleaned it out but he needed to get of the fuel dock so we tied up on both sides and pulled him back into the harbor and to his ball.
I spent the rest of the day cleaning, degreasing, and painting the engine and the heat exchanger.
Bobcat metal works can weld the copper nickel just fine but he doesn't have a pipe bender for 2 inch pipe so We're going to have to figure something out... not sure yet what that means.
It's pouring rain out right now and it's hot and humid on the boat... we're quite miserable, but we're having beans rice and cabbage and carrots.
---
Date:
Wed May 24 00:53:00 UTC 2023
New Plans
Time for a road trip
So I picked up the exhaust pipes today from Bobcat and I'm going to take them to a shop near the Ft. Lauderdale airport that says they can do it and it will only take a couple weeks. Now I have to figure out how to get there.
I did some more varnishing today and we sat around and talked to people at the Marina. It rained again of course and I'm still trying to find the leak. This morning we hit it with water in several places and I still can't narrow it down but I've determined it's not the forward hatch or the dorade boxes. I think it's an area of the deck with bad caulk. I almost zeroed in on it. I did find a few weak areas with bad caulk so I fixed them and I'm looking again after the rain a few minutes ago. Darn, I guess it's somewhere else... I just checked the forward head by the water fill area... still wet.... well, it's a boat. If you have no leaks that's bad because guaranteed it's leaking somewhere bad you can't see.
---
Date:
Wed Sat 27 03:38:00 UTC 2023
Road Trip
Finally moving forward
Thursday we drove a rental car to Ft. Lauderdale to US Metals to have them fix the exhaust. We got all the pipe out and the muffler. When we dropped the system off at the workshop they said no problem and were very confident they could do it for us. hopefully in 2-3 weeks we will have a new exhaust system made from Copper Nickle! I have the last parts for the engine on order so we can ship it off to the machine shop to have the head re built. The plan at this point is to be ready to head north by the end of June so we can get on the hard for bottom paint in July.
On Wednesday evening the boat next to us was struck with lightning and the one on W1 was hit as well. This is twice in less than a month hitting the same point. Very scary...
I have received the "lab metal" so I can start fixing the heat exchanger. I hope it works. We will find out. I will try it tomorrow.
I have picked up corn hole and have been playing with the other boaters twice a week. I never thought I would like it but it's addicting and fun.
My mother's arm is getting better and she can get on and off the boat now with barely any assistance. She still wears the brace sometimes but it is a lot better. I'm pretty sure that by the time we are ready to leave she will be ready to travel as well. I like it here but we are ready to move on to our next adventure.