Ships Blog
---
---
---
Date:
Sun Apr 9 04:34:00 UTC 2023
Passover
Good Friend and Good Food.
So Wednesday night we did passover on the boat. We cooked for 8 and had two couples over. It was wonderful! We had Cod fried in Matza with beet horshradish we made here. We had Hannah's Matza ball soup and then made bowls with salad fixings and chicken. Then we rosted Lamb in the oven for 4 hours and had a real lamb shank. We cooked it in 1/2 bottle red wine with lots of spices rubbed on the Lamb and carrots and onions. It was wonderful. Hannah made Key lime pie with almond flour and pecans for crust for dessert. It was a wonderful evening. Our friends from Suprise and Tom and Kim came over at around 1900 and we finished up around midnight. This was our first passover meal cooked on the boat and it went much better than we expected!
A few days ago we were working with the deck wash raw water and the hose came loose under the V berth and filled the boat with probably 200 gal of water very quickly. So we turned everything off pumped it out and turned off the through hull. So today Sam and I took it all apart and put in new hose removeing a bunch of old fittings that were stacked on top of eachother. Then after we got it back together the pressure switch on the pump failed. I tried to rebuild it 2 or 3 times but it just will not work so tomorrow I'm going to go back to the store and buy a washdown pump. I think ultimately it failed because it overpressured the lines. But in any case we had to take everything out from the v-berth to get to it and we'll have to do it again tomorrow. We also found out that one of the fittings from the through hull to the pump is made of iron and I couldn't get it off. I don't want to break off the through hull trying so we're going to have to leave it in place untill we're out of the water.
We have been enjoying the harbor here and I guess I've gotton lazy about this blog as we have settled in. But I'll try to do better. Sam's computer is being repaired so the youtube videos are delayed. I guess we'll have to post more pictures here because of that. Please bear with us folks! We'll be back online soon!
---
Date:
Sun Apr 11 14:28:00 UTC 2023
Storms
Exhaust elbow and work inside.
So there's a storm that has been moving across the US and it's finally here. Last night we had 20g30 and 1 foot in the harbor. It's a little rocky and lots of rain. But all is well. Just not a good day to go outside. We left the dinghy in the water last night and added an extra line.
Yesterday I was informed that the exhaust elbow I sent to Michigan was lost and thrown in the trash! I'm so frustrated. This is not complicated but no one wants to do it and everything is getting in the way. So yesterday I spent another 100 and made a protype out of wood and PVC and I'm sending it off again today. I'm starting to get more than a little irritated.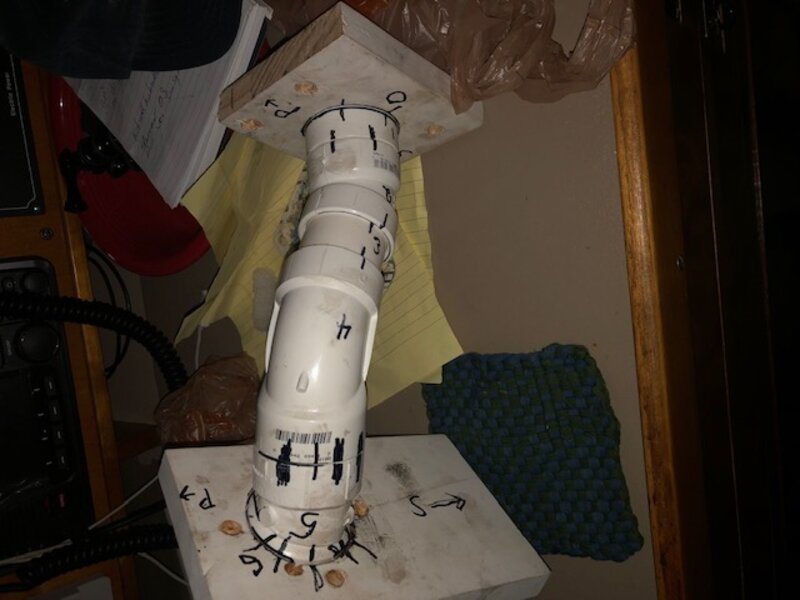 Lilah has been playing a lot more lately. I think she's bored. She loves to dig under the covers looking for the string as I pull it and she's been laying on her back with her legs splayed out. She's never been like this before. But she's been lots of fun to play with. She even tried to chase a pelican yesterday and ran along the deck.
Mom's arm is starting to feel better and we're supposed to get the cast off on Friday.
---
Date:
Wed Apr 12 14:34:31 UTC 2023
position report
 At 4/12/2023 1:34 PM (utc) our position was 24=B042.35'N 081=B005.85'W 

we just got the new position reporting system going so that we can easily update our position when underway. The storm was not too bad last night and winds only got up to about 35. All is well and today is a get fuel day. I got the exhaust elbow prototype sent off and we're now just waiting... I hate waiting. There were two items for sale on the radio net today, a very large Danforth anchor and a almost new dinghy motor 6hp. Now I'm wondering if we're going to need spares...
---
Date:
Sat Apr 15 20:21:00 UTC 2023
Solar Panels
General updates for the last couple days.
Today I have 4 solar panels up on the sun cover making about 150 watts. I have a victron charge controller and the panels are flexible. I'm glad to have some solar working. It's not permanant becuase I don't have a permanant place to put them but we can do this in port.
Today it's 86 in the boat and we're HOT! But mom got her cast off yesterday so she's feeling a lot better. They have it in a soft brace for the next couple weeks but things are looking up.
We've met some wonderful new friends, on Sparrow and they are coming over for dinner tonight. He's cooking!
A few days ago I went sailing with Mike and had a wonderful time. I'll post a picture soon.
We also got our hose from ELEY hoses. And with that final addition we have an entirely new raw-water deck wash system. The other one was leaking something fierce because of a terrible installation. Multiple adapters going in different directions with different size hose and hobbled together. I'll show a before and after shot soon.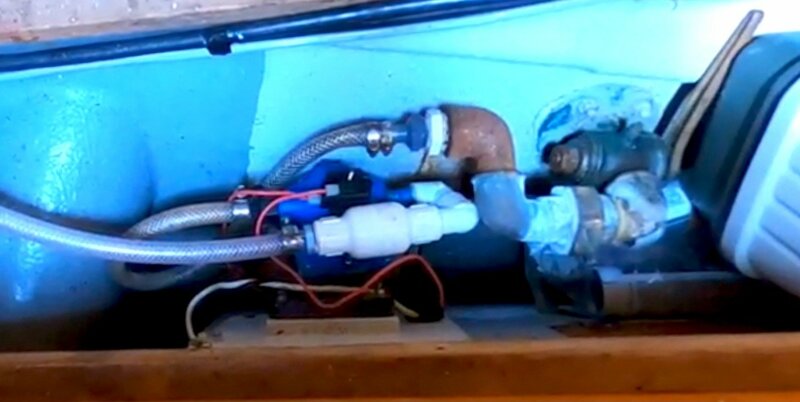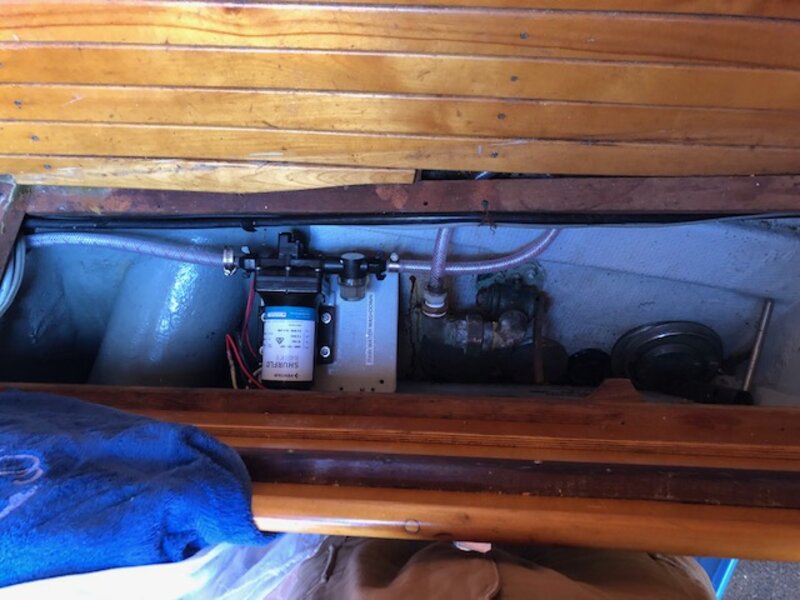 ---
Date:
Mon Apr 17 14:27:00 UTC 2023
Lightning Strike!
Storms last night.
Good morning everyone, we're safe. But the boat just 2 moorings away from us was struck by lightning last night. I watched the sparks fall after it hit their mast. I went over there at 2am to check on them at the tail end of the storm and they are fine but I'm sure their electronics are fried. OH my it was LOUD! The wind hit 36 knots for a few minutes and it rained buckets. I had not unplugged the dinghy drain so it was full of water when I went over there and I had to drain it before I lowered it. I don't like doing that because it's VERY heavy and strains the Jockey pole I use as a crane. We are glad they're all ok over there. It could be bad if you were touching metal when it hit.
---
Date:
Thu Apr 20 02:14:00 UTC 2023
Clean Bilge!
Rebuilding the Bilge pump system.
The last couple days we have spent working on the bilge. Since the exhaust elbow was leaking we were spewing wet greasy diesel exhaust into the cabin and so everywhere under the floor is a black greasy mess... it's everywhere.
So we broke out the degreaser (Mango Sky suggested "Totally Awesome") and started spraying everything down. I think we dumped about 50 gal into the Bilge. Then the bilge pump clogged and I wasn't sure I could sleep with no bilge pumps operational. So at 11pm we finally got one pump working a little bit. This pushed me over the edge and I decided to get rid of the hoses sitting in the bilge and put in a more functional system.
Our boat has 2 bilges and one baby bilge (about a gallon) I think we could put about 200 gallons in the bilge. They are 3-4 feet deep and 1-2 feet wide. But the aft bilge is not as deep as the forward bilge and yet there is a lip between the two of them. Thus you can't ever pump both of the dry without two seperate intakes. We had a single pump with a y valve in the starboard lazzerette. It was a real pain to get to to switch so I decided to rebuild the whole system.
So Sam and I went to Home Depot and picked up a hundred dollars or so of pvc and starte building a new system. First I put a long flat piece of PVC under the floor with a T (which went to the pump) and two ball valves forward and aft. Then I put two vertical pieces heading down to each bilge with a strainer and one way valve right on the bottom. This way I could turn on or off each bilge and I could get all the water out without clogging and as well provide for disassembly for cleaning and maint. I'll have pictures to follow. Bottom line is it works now and we've got a dry bilge for the first time in over a year.
Tonight Hannah made bannana mango bread!!! Oh My!! This morning for breakfast we had eggs and home made corned beef hash from our corned beef and cabbage for saint pattys day. It had been in the freezer. We had home made bread yesterday too!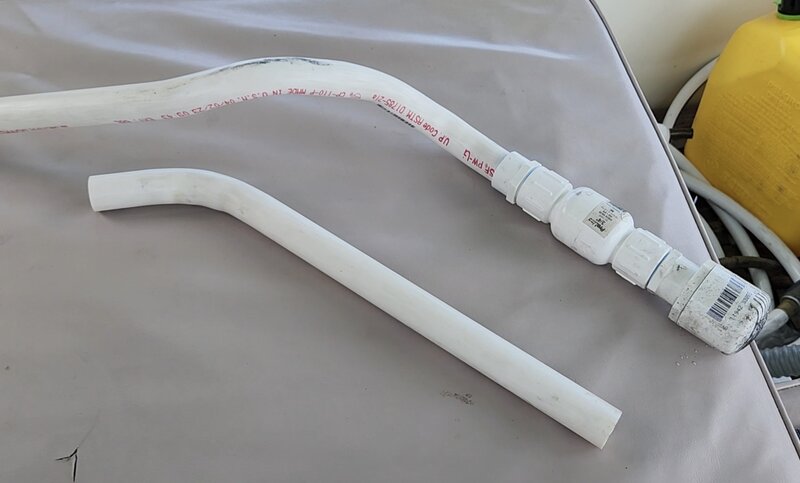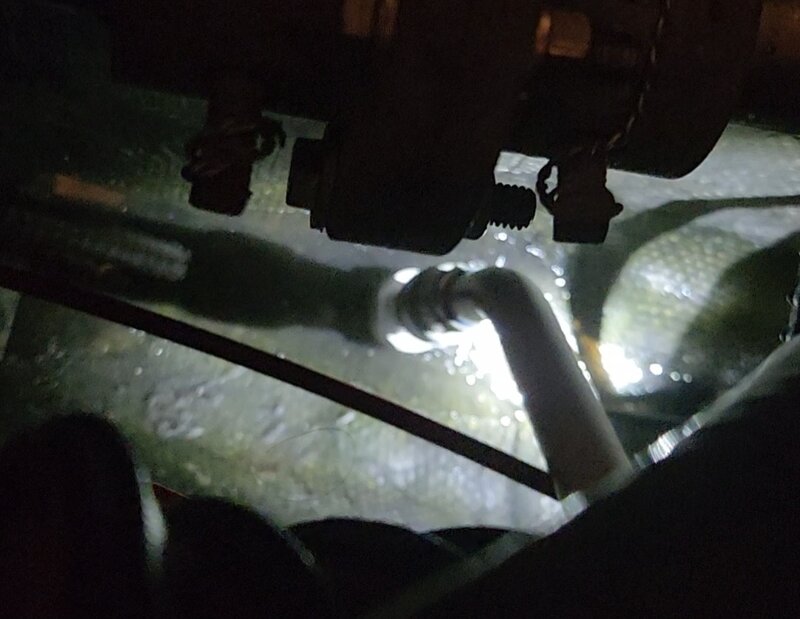 ---
Date:
Sat Apr 22 03:56:00 UTC 2023
Computers!
Sam's Computer is fixed!
Yesterday we fixed Sam's computer. He put two new fan's and a new heat sink in it. One of the things we found was that the old heat sink was not screwed down tightly and the thermal past was barely gripping. It's no wonder that it wouldn't cool down. Well things are running much better now so we can get back to putting up videos! We'll be playing catch up for a while so bear with us please.
Tonight was happy hour again and we spent the evening with friends talking and hanging out at the Tiki hut here at the Marathon Marina.
Yesterday we also got our bottom cleaned again and I'm working on fixing cracks in the wood with epoxy. Mostly we're working on the wheel and the risers for the winches.
Tomorrow we're going to raise the Big head sail. I'm not sure what to call it but it's a big high cut fore sail with a dousing line. I want to make sure we can control it and the winds are light so it's a good day to test it. I'm not sure how we're going to roll it up again. I also want to practice with the storm sail.
I'm trying to use the time wisely to get ready for our sail north. We can't go till we get our exhaust elbow back but we can be ready to go so that when we do get it we won't have to wait weeks to be ready. I'm really frustrated about this custom elbow. I'm afraid it's going to cost us over 2000 to have it made. I'm not sure I'm going to deal with this company again if they are going to do this to me. I was considering making my entire exhaust with them but at this point I'm thinking not. It should not be this much.
---
Date:
Mon Apr 24 02:45:00 UTC 2023
Sunday Fun Day
Pancake Breakfasts with friends.
This morning Mango Sky, Intrepid, and Suprise came over for the morning net because Suprise's radio was acting up. So Hannah made Pancakes for everyone and we sat around and talked till noon!
Ryan, Randy, and I hoisted the Top Jib to check it out and have a look at it. It is some kind of offshore heavy Asymetrical Spinaker and says as much on the label, but it is cut like a top jib. Ryan has never seen one like this before and is going to ask some of his family about it. I'm still not sure of the proper way to fly it.
Then I went over to help Moral Compass with an electrical problem and we disconnected his solar charger which died and hooked up his Generator to charge his batteries. After that I went to help Suprise with their radio. It was a but fun day. We sat all evening visiting with Beth and Randy and their dogs and watched the sunset over the bridge to nowhere.
Now, Hannah is making dinner and I'm checking email before bed. And tomorrow is another day in Paradise! It was hot today and barely any wind. Oh, I finished epoxying the wheel today as well so it's all sealed up proper. Now I have to sand a little more and put on poly top coat.
---
Date:
Tue Apr 25 14:30:00 UTC 2023
RAIN
Hey it finally rained!
This morning I woke up at about 06:45 to the sound of light rain so I closed the hatches. Before long it was pouring and thundering till just now. I got a call from some friends who's hatches were open so I had to go out in the rain to close their hatches. It blew pretty good up to about 30 knots. We captured several gallons of water off the sun awnings and cleaned off the decks. We did have water coming in around the water fill fitting on the deck. I've tried several times to seal that off and it's still leaking around the fitting. I've completely taken it out and re-bedded it. I think it might be coming between the teak and the fiberglass. The inner layer of balsa is solid. There is a layer of something like 4200 between the wood and the first layer of glass and I think that's where it coming from. I'll have to take it off again. There was a little extra water in the bilge that is dripping from around the fuel tanks that I'm not sure where it's coming from yet. The rain didn't last long enough for me to find it. But I did find a black water leak from one of the pumps. The first one we rebuilt several months ago is leaking a little... Oh Joy! guess we have to do that one again. I have all the parts.
This morning I'm taking the exhaust elbow prototype to Bobcat Metal works to have someone else look at making my elbow. This is becoming very tiring. I'm worried about the timing of our trip north.
---
Date:
Fri Apr 28 02:19:00 UTC 2023
Moving a Boat
Was it stealing a boat at night??!
Last night at 10pm we needed to move a boat before some folks stripped it. The entire story is very sad, but the bottom line is if we didn't move the boat some group nearby was going to strip the boat. So Sam and I helped the new owner move the boat in the dead of night and anchor it between several other boats. The boat had no working motor, no working steering and had three anchors twisted about. So in the dark we cut the anchors free marked them, and used 4 dinghys to move the derelict boat to a safer location. We had three dinghys pushing, one steering, pulling the bow in reverse, and two spotting. We ran aground near M row after an argument about whether to go that way or not. We pulled it free and continued on to the anchorage location and anchored the boat with a borrowed CQR anchor in about 10 feet of water with only 50 foot of line. I'm not sure how well the anchor was set but it has held so far! Luckly there was no wind or current to deal with at slack tide. It was a 33 foot Morgan. So it was a heavy boat but if you can move a boat with your hand at dock you can tow it easily with a dinghy.
Yesterday we rebuilt the black water vacuum pump that we rebuilt originally and got it completely out of the boat this time to rebuild it better. It was easy to rebuild but getting it in and out was a real pain. In order to get it back in the boat we had to heat the PVC on the input end. But after nearly all day working on it now both forward and aft pumps are working. We also cleaned out the bilge after leaking black water in there. It was a stinky mess of course. But it's done now and shouldn't be needed for a good long while. In process I found that the pump out PVC into the black water tank is not sealed in.
Today I finally figured out how to use my signal flags. Amazingly enough there is nothing on the net about it. We did a video. I don't know if it was because it should be obvious or if it's just lost knowledge but most of the suggestions were terrible and didn't show the old school method. I had to figure it out but I must say that after figuring it out it is very obviously simple. Trying to think old school and realize that it had to be quick and easy with just knots was a key. So here it is: The top of the first flag you tie with a reverse cow hitch. (pass a loop in the halyard through the loop at the top of the flag. Then pull the entire flag through the halyard loop backwards.) Stack the flags with loop and toggle till you get to the last flag. Pull it all tight and tie a clove hitch with the halyard on the bottom toggle. It's fast and easy and requires no clips. I have hoisted the YQ pattern up which says "I want to communicate" we'll see if anyone in the harbor answers.
NGA Pub 102 the International Code of Signals 1969 edition revised 2020
from msi.hga.mil is your bible for these messages. There is some simple things in Chapman's piloting but the full list is in that document.
---
Date:
Sun Apr 30 04:58:00 UTC 2023
Fun Weekend
Visiting and helping
The last couple days we have had friends over to the boat to have Belizian beans and rice cooked in coconut milk and home made tortillas. I helped Three different folks with electrical problems, spent the day with Moral Compass. It was Brads birthday so we binged The Good Place and ate lunch at Burdines.
We heard there was going to be rain tomorrow so we tightened up the boat and took down the Sun shade and put the cushions inside the boat and are ready for a storm. It is supposed to start tomorrow morning. The weather is getting pretty hot now and very humid. I can see that if we don't get out of here soon the storms will be in our way very regularly. I still don't have word on my exhaust elbow and we are getting worried about it.
I have purchased an anchor from Diesel Dan and it should be a better storm anchor. We have a Fortress 37 and this is larger I think a 45. We are trying to be ready to leave so that when the exhaust elbow comes in we will be out of here quickly. We will miss our new found friends and hope to see them in the future.
We did get a response on our signal flags. Someone asked Sam if we were ok because one of the flags was a quaranteen flag. The combination of the two flags is asking to communicate but they were worried about us being sick perhaps. I was surprised that any one even noticed. Now it's time for bed...