Ships Blog
---
---
---
Date:
Sun Aug 6 03:16:00 UTC 2023
Still... um...
Just when you say you're ready to go you arn't
So as we were preparing to head north we found that the rudder position feedback unit decided to die. So I couldn't check the autopilot. I have one on order. Also as you know our VHF radio died but iCom fixed it very quickly and it cam in the mail just a couple of days ago. This morning I put it in and tested it. All is well on that front. I have suspicions about our depth guage now as well and will be looking into it. When the new rudder feedback unit comes in I'll be able to test the autopilot.
All is peaceful and quiet in Boot key and the weather is hot but fabulous. I went to visit the Vinyard congregation on Big Pine Key this evening with friends and had a wonderful time. They have quite the band there. Very professional.
I did a little work on electronics on another boat in the harbor and I'll do a little more tomorrow.
---
Date:
Fri Aug 11 16:39:00 UTC 2023
Last Minute stuff
Fixing what needs to be fixed...
The last couple days has been spent cleaning up, fixing last minute stuff and preparing the boat for a passage. I got the rudder feedback unit in from Defender and put it in today. The original was a simrad RF300 that was an analog unit directly wired to the Autopilot. I replaced it with an RF25 that is NMEA2000 that way I have a rudder position indicator even if the autopilot is turned off. I had to rewire the connector to nmea2000 from simnet. I carefully soldered each wire and heat shrinked it. Then I wrapped foil around each pair of wires to separate them from the power wires (NMEAstandard) and then replaced the foil around the entire bundle. Then I put heat shrink around that and finally wrapped it entirely with self sealing stretch poly tape. It looks nice and works great. I tested it this morning and re-aligned the rudder and auto pilot. Then I pulled out all the old wire going to the auto pilot and put back everything I had pulled out. You have to empty both lazzerettes in order to get access to the rudder feedback and the auto pilot.
Then I started working on the tachometer and broken glass on the engine instruments. I replaced the polycarbonate/lexan and put in new machine screws and nuts rather than the original wood screws cut off. I got a used tachometer that worked for a few tries but then died again. It's hour meter didn't work either. So I'll have to order an new tachometer and I think I'm going to get a separate hour meter as well. For the time being I proved that the alternator is working for a tach sending unit. My alternator is very old and I priced a new one at $450 and it has to come from France. It's about 8 weeks out.
I'd like to go for a test sail this weekend before we leave but it depends on how well I can clean up the boat by my self. I'm getting itchy feet to be back on the water. It feels like forever since we were on the open water. I can't wait! We are planning on extended off shore this time so I will be testing the remote blogging feature I programmed. Everything should still work. ha ha... we will see. enough for now. I'm off heading for a shower and lunch.
---
Date:
Tue Aug 15 19:11:00 UTC 2023
It's the CURSE!
Just when you thought it was safe to go for a sail...
So on Saturday, the generator decided to blow a leak. The side of the heat exchanger that was a scaley mess blew out and dumped a hundred or so gallons of raw water into the bilge. So much for going for a sail. I've spent the last 4 days rebuilding the heat exchanger. First I had to figure out how to get it out of a 4-5 inch wide space in front of the generator. That took most of the first day. Then I cleaned it up with a wire brush, put it in acid (thanks Don!) and then I made a copper plate to put over the coroded areas and soldered it with high temp silver/copper solder. Then I put it in without pressure testing it... bad idea... it leaked and that scared me. So this morning I pulled it out found the leakes, re-soldered it, cleaned up the surface for the gaskets on the ends and tested it. It seemed ok so I put it back in. That took most of the morning but around 11am I got it running again and no leaks! There is so much depending on this generator that it's scary.
Well as I wanted to make sure I had an alternate way to charge the battery I started to try and debug the balmar house battery charging system that has never quite worked correctly. And you know what? I found the problem. See, the generator would kick on for 30 sec or so then kick off for a short period like 1min. Then kick on again. It was very frustrating and I re-programmed the 614 several times trying to figure out why it was kicking off. Checked the belt tension, the temprature... wait! that was it. the temprature of the batteries climbed in 30 second to 56deg and then it kicked off. Once it was at 51 it would start up again. Well, low and behold, the alternator temp and the battery temp were swapped. The alternator temp can climb to 100 before it starts limiting the circuit. After swapping them to the correct positions, the battery is staying below 51deg and the alternator is staying around 85 and it charges happily. I reset the programming back to lipo4 and let the default settings do their job and it's charging fine. So we have 3 ways to charge: generator, engine, and solar. I feel much better.
Now it's time to clean up the boat and take a well deserved break. Hopefully we will be heading north soon. This has been one heck of a shake down and we have fixed a lot of things on this 53 year old boat. There is always more to do but I am pleased with what we have accomplished in the last 8 months. Isn't that what they call cruising? Fixing a boat in exotic locations! Have a wonderful afternoon and I'm going to clean up.
---
Date:
Fri Aug 18 03:49:00 UTC 2023
Preparing to Sail
Final organization
Yesterday and today we spent shopping, cleaning up the boat, and putting everything away. After several months in port there's a lot to put away. We are looking forward to the open ocean! We need to clean the dinghy, fill up water, fill up fuel, check all the cabinets and storage lockers for things that might roll around, look in all the bilges for anything we might have lost, Check the sails, the lines, the tackle, and the engine. We need to make sure all the radios and navigation equipment works and that we can get weather off shore. We need to check for corosion on any grounds make sure that our maps and charts and computers are up to date and accessable easily. We need to check our wet weather gear and our first aid kits. We are checking that nothing is chafing on the drive shaft or the throttle cables and that our batteries are secure and the electrical lines are not chafing. For now it's late and time for bed. We will continue this for the next couple days. G-night!
---
Date:
Fri Aug 18 13:24:01 UTC 2023
This is a test of our off shore blog system
  
 Test Test Test 
 Hi all! 
  
 We have a system to send blog posts when off shore and I thought I'd 
 give it a test. 
 We want to make sure our weather and off shore systems all work. 
  
 Steve 
  

---
Date:
Fri Aug 18 03:49:00 UTC 2023
Happy Hour
Saying Good Bye
Every Friday night 52 weeks a year there is happy hour potluck at the Tiki in Boot Key Harbor at the City Marina and tonight was no exception. But this time was a little sad because all our friends were there. We have made so many good friends during our stay here that it is actually difficult to leave. There were people who came just to say good bye to us and it was very amazing. I wish we could have talked to everyone. We will miss everyone but the plan is to be back here in the winter.
We also met some new friends who we will likely be buddyboating up north with. Moral Compass, who we sailed down here with is staying for a longer term and we will miss them particularly. It will be odd not to have them near by. We have become family. I never really thought buddyboating was much of a thing but it's a very valuable thing when you find folks who will share the risk of the ocean with you. But it's so much better than going it alone on the big water.
Our current plan is to leave Sunday afternoon after the storms pass by us and go directly off shore. We are still actively preparing the boat for the open water and in addition I a going tomorrow to help our new buddy boating friends make sure they are ready.
I never knew we would be so social on the water. I really thought it much more of a solitary sport/life. Perhaps with the dangers involved friends become much more important. I've met some friends who prefer a more solitary life but it seems more fun when you have someone to share the experiences with. I'm not sure if it's just the shared reality or relying on eachother but it's important. In this harbor you can see how much other cruisers rely on eachother. The community is very strong.
Oh today we had our bottom cleaned by Kyle here in the harbor. He did a great job, so we'll have a clean bottom for our sail north. Well, good night for now. Tomorrow will be a long day.
---
Date:
Mon Aug 21 13:55:54 UTC 2023
First Day Heading North
 Hard Day against the wind! 
 Hi everyone we are at Key Largo.  We left Marathon about 1600 and motored 
 out past the Lighthouse at Sombrero.  The winds were 090 at 25g31 and the waves 
 were 6-8 feet with an 8 second period and breakers. I think that's officially spicy! 
 The water was a wonderful deep blue and you could see the light through 
 the breakers just before the crashed over the bow of the boat.  The spray went 
 from stem to stern and we were all soaked in salt water after just a few minutes. 
 Grace climbed up each breaker, crashed through and down the other side. She was 
 glad to be back on the water but we were getting worn out and the poor cat Lilah 
 was beside herself.  She finally did get sea sick and we felt bad for her.
  
 Sam went below to check the bilge because we heard the bilge pumps going off 
 and he had to do this 2-3 times in the next couple hours.  We finally took apart 
 the floor of the aft storage locker between the beds in the aft cabin to see how 
 the stuffing box was doing and it was leaking a little bit more than we thought 
 it should be.  It has been sitting for months so I'm not surprised.  Sam made 
 it through that without getting sick.  Hannah made chilimac and we ate just before 
 we got to the lighthouse. 
 
 We left on the back side of the storms and every thing was well, 
 but fighting against the wind heading east along the keys was not practical. 
 We made about 4 miles before sunset and were worn out. 
 So we motored back north and headed for the Hawk channel. 
 After sunset we motor sailed along till Key largo where we ducked in for a break at 0700 
 this morning.  Seas were 2-4 feet with a bit of a tidal current against us.  By about midnight 
 I was able to unfurl the Genoa about 30% in 20g25 knot winds and we made 7-8 knots motor sailing 
 inside the channel.  At about 7am just before sunrise with everyone asleep we approached 
 Rodriguez key and I woke up Sam and Hannah so we could anchor in the dark. There was a derelict 
 catamaran in the anchorage with a single light on a pole and no mast.  It looked like something 
 from a post apocalyptic story. 
 
 We woke up 2 hours later to a beautiful partly cloudy day and Hannah is making eggs and toast. 
 The cat has recovered and we are completely soaked in salt water.  There are salt crystals 
 in my beard and hair.  The cabin sole of the boat is soaked in salt water and slippery. 
 but the teak decks are WONDERFUL!  They love the salt and last night I could walk barefoot 
 in the spray without slipping on the decks! 
 
 Well, I smell the eggs so We're going to eat and then get back underway.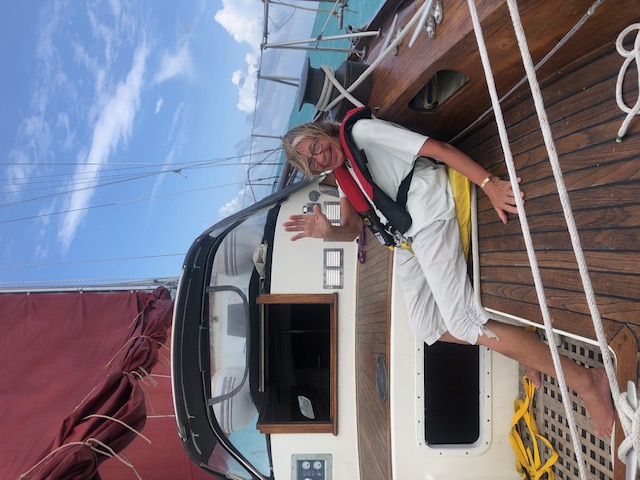 ---
Date:
Tue Aug 22 00:57:16 UTC 2023
Day Two of the Journey North
 Smoother day than yesterday 
  
 Hello Friends! 
 Day two was much easier.  We motor sailed for the first 
 half of the day and sailed for the second half. 
 We had partly cloudy skies with random pop up thunderstorms 
 Waves in the channel were 2-4 feet and the winds were 
 15-10 also off our starboard beam. 
 As the route around the keys turns more northerly we were 
 finally able to just sail close hauled.  We made between 
 6-9 knots and hit a maximum speed of 9.2 knots in 21 knots 
 of wind close hauled rails in the water! We spent much of 
 the day in this heeled over configuration. 
  
 We left Rodriguez Key around 10am after a breakfast of 
 eggs and toast.  Around 11:30 or so we ran into our first 
 little microburst.  Winds picked up to 40 knots and the driving 
 rain mixed with the see spray and pelted us until we were 
 soaked to the bone with salt water again. (two days in a row) 
 It is interesting how the waves calm down in the center 
 of a storm.  We were hit by 2 other small showers during 
 the course of the day but mostly they missed us.  We did. 
 seed a tornado forming under one of the storms on land. 
  
 Lunch was PBJ and dinner is fried burritos which we are 
 eating now.  Later tonight we will be cleaning up the 
 cabin sole.  The salt water has made it so slick and 
 it never want's to dry out. (because of the salt) 
  
 Around 5pm I heard a bump!! We were all pretty freaked out. 
 as we looked at the chart plotter we saw a shoal right on 
 the edge of the channel.  It was not marked on the navionics 
 charts unless you zoomed in really close! It's a tiny shoal 
 that rises about 10 feet in about a 10 meter area. 
 We draw 5.5ft and we hit on the bottom of the swell. 
 My depth gauge clocked it at 7ft.  As far as I can tell 
 no damage was done with our full keel and we didn't hit 
 very hard. 
  
 After we anchored the boat next to us moved about 200 yards 
 farther away. There was plenty of room but I hope we didn't 
 offend them or something. We were easily 100 yards away from 
 them. 
  
 Bye for now. 
  

---
Date:
Wed Aug 23 02:02:20 UTC 2023
Day Tlsohree of Journey North
 Just off West Palm Beach 
  
 Hi all! 
 We're about 5 miles offshore approaching West Palm Beach. 
 Today we sailed all day.  We did three easterly tacks 
 to keep us off shore.  The wind kept pushing us back 
 toward shore about 5 degrees of of north. 
 In the gulf stream we had 4-6 foot waves with a 
 7 second period out of the north east.  winds were 
 also north east at 15g20 
 It was a nice sail.  We set the sails turned off the 
 autopilot and put the wheel to 0 and she tracked 
 straight as an arrow!  Man I love this boat. 
 We are presently single reefed in the main 
 and the genoa is also reefed.  WE are making 
 about 5 knots under reef for the evening.  Earlier 
 we were making 6-8 knots under full sail 
 I have to deal with this bilge pump so this is 
 enough for now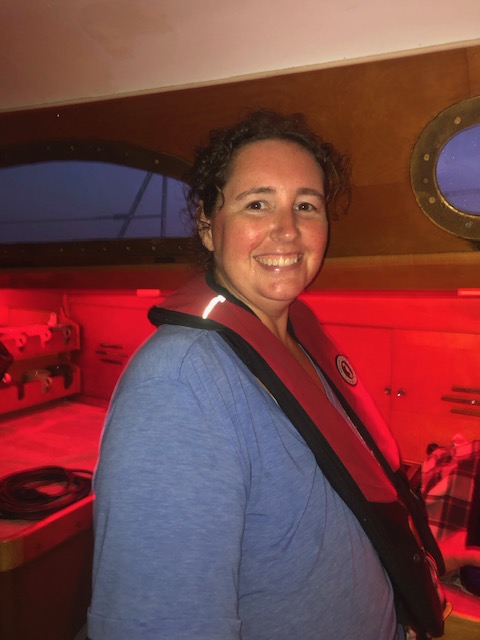 ---
Date:
Thu Aug 24 18:42:13 UTC 2023
Day 4 of the Journey North
 Good practices and night sailing. 
  
 Hi Guys.  Wednesday day and night: 
  
 We made 4.1 knots through the night. 
 We were reefed with 15 knots of wind and by 4am 
 we were just passing Jupiter inlet.  It felt like 
 the popup storms were chasing us.  They came 
 one after another from the east moving toward 
 shore.  The winds would shift and drop on the sides 
 of the storms and then pick up on the back side. 
  
 Sam and I took shifts through the night and talked 
 about the stars.  I napped in his bunk in the aft 
 cabin.  It's the best bed on the boat.  We had chili 
 for dinner and home made cookies. 
  
 By morning we were around Ft. Pierce and we sailed 
 through out the day close hauled.  Seas were 
 3-4 feet with an 8 second period and winds were 10-15 
 out of the north east. We had Yogurt and Granola for 
 breakfast and Turkey and cheese rollups for dinner. 
  
 We are running the Generator for about 2 hours a day 
 to keep up with power requirements and we have found that 
 our water in the tanks now all jostled up and bounced around 
 is sour smelling.  So we are filtering the water before 
 using it. 
  
 In the afternoon our turning block on the port side 
 had the pin coming out and we almost lost the bronze 
 sheeve!  Sam and I spent about an hour fixing it 
 We were mostly looking for small set screws that would 
 fit.  The set screws had been removed and not replaced 
 and the pin/blot had backed out. 
  
 By about 1930 approaching Cape Canaveral the winds suddenly 
 changed to directly off the nose.  We tried to tack several 
 times but our velocity made good was only two knots so we opted 
 to try and catch a coastal breeze by tacking in toward the land. 
 we were about 15 miles off shore.  In the end with storms coming 
 we opted to start the engine. Hannah and I took in the sails 
 and put in both reefs in the main so that when we raised it 
 during the night it would already be reefed.  We motored till about 2am 
 and as we were ready to round the cape the winds shifted favorable again. 
  
 So we put up Jib and mizzen with the Jib reefed about 50% and we 
 were making 6 knots with 15 knots of wind. popup storms came 
 back to back and we got hit by 3 of them. 
  
 I like to reef at night as a general rule.  But if you can 
 make 6 knots reefed why put up more canvas? Just to stress 
 the boat for no good reason? Winds were 10G18 out of the east 
 which is where the popups came from.  one time I had to 
 put on the auto pilot and come below to get out of the 
 driving rain and 20 knot winds but it was only for about 20 minutes. 
  
 Reef early and Reef often.  Don't over power your rig! 
  
 Oh, and at about 4am I found out the motor is blowing 
 exhaust in the bilges so I'll have to look at it after sun up. 
  
 I'm going to eat breakfast and go to sleep after Sam wakes up 
  
  

---
Date:
Sat Aug 26 06:47:00 UTC 2023
Good Friends
Back in St. Augustine!
Today we spent the day getting organized and cleaned up. After 4 days offshore we were pretty tired and needed a good shower. Then in the afternoon we spent time with friends and went out to eat in St. Augustine. We are planning our continued trip north. There are two storms coming that might put us at risk and we're trying to find a good location to ride out these storms. One is coming up the west side of Florida and is projected to cross the state right were we are and then go up the east coast. The other is sitting off shore and is a developing huricane that is projected to hit the carolina coast and then maybe go up to Maine. The boat looks wonderful from the waterfront but up close you can see that the bright work did not fair very well. As you know we have been testing various formulations of varnish and poly. The Poly is holding up well but the varnish is not. Poly on top of varnish is doing ok but varnish on top of poly is flaking off. However the grey decks look great and the two tone color is striking. On our way in the engine blew a water hose and nearly overheated!! I always check the bilge before bed and it was full of water. I found the fresh water leak on the lower side of the heat exchanger with a hose that had been over tightned over years and was splitting under pressure near the back side of a hose clamp. So this morning Sam and I removed the hose, cut off 1/2 inch and re-attached it. All is well. I suppose I need to have a complete set of spare engine hoses on the boat. I also found that the fan belts are eating them selves up. I think it's bad pulleys. I'll have to fix that in North Carolina.
---
Date:
Sun Aug 27 04:34:00 UTC 2023
Happy Birthday
Mom is 86!!
Today we went shopping for our trip north to Brunswick Ga. And while we were at the store we bought a cake for Mom's birthday and then in the Augustine boaters lounge we sang happy birthday and ate cake with Anamaashi! We had a great time.
I am going to miss St. Augustine. I really like it here but it is a great place to spend money! I bought a new pipe here from a pipe shop I looked at last winter.
There is a cat 1 hurricane coming up from Cuba heading north through the gulf. It appears it is going to hit the west coast of Florida and then move across Georgia by Tuesday. We are trying to make sure we are safe from this storm before we head north.
It appears we are going to head north to Brunswick Georgia tomorrow morning early and secure a place in a known hurricane hole.
---
Date:
Sun Aug 27 23:56:00 UTC 2023
Grounding and centerboard
It's always something...
Hannah was up all night last night getting the boat ready to sail and only got about 2 hours of sleep.
We left this morning at 06:30 and motored up the ICW. It was a really nice day. Partly cloudy and warm but not too hot with a good breeze from the motoring. We saw dolphins, tons of birds, fishermen and boaters on a Sunday afternoon. We saw two flamboyants of pink flamingoes and one single one flying across the channel. The country side is beautiful and certain areas were dotted with really nice homes on the river. We had Bagels and cream cheese for breakfast and Pasta salad for lunch. Then Hannah went to sleep till about 1800.
At around 13:30 we ran hard aground near green 47. It was not as charted and neither was the 4 foot depth. It took us about 30 minutes to get ourselves off the mud. Then I was skittish the rest of the trip.
Sam and I took turns at the wheel but some places were really narrow and windy and I took the wheel back. We finally anchored about 1900 near Cumberland Island Georgia and Hannah made fried burritoes and fried potatoes. We are finishing dinner now and will visit with Anamaashi later.
We are tracking the storm coming up through the gulf now. We have decided Brunswick will be as good a place as any. This storm is going to hit the entire east coast. We cannot run from it. So we have to pick a good hole to hide in.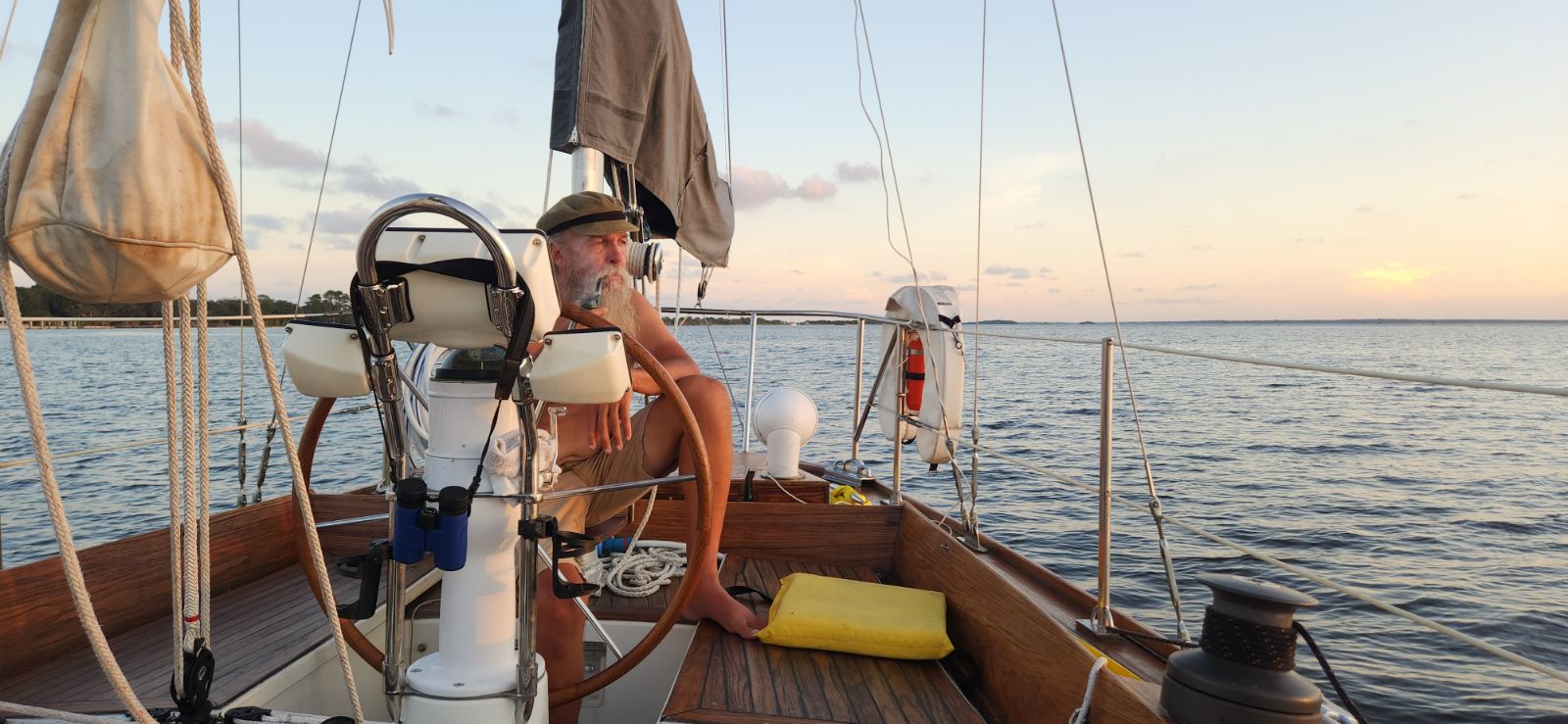 ---
Date:
Mon Aug 28 22:00:00 UTC 2023
Brunzwick Ga
At the Marina
This morning we got up at 06:30 and headed up the ICW. It was Smooth with minimal winds and Hot. The ICW was pretty shallow and there were some seriously narrow spots that could never be properly navigated without some form of charts. The channel is marked but the real deep part is so narrow and there are so many shoals that I would not recommend it without electronic charts unless you draw less than 4 feet. We made good time and only bumped a couple of times. However, since it's a full day's run you cannot count on high tide at every location so some of the bumps were at low tide.
We arrived at the marina in the late afternoon and they put us on dock 15 slip 23. It took we two tries to get into the slip because of sliding with the wind but the second time was smooth. We tied up and we got in a west marine run for supplies then came back showered and made it to Happy Hour at the club house! We got additional bumpers, line, water filter, etc
Moonshine is here and we were glad to see them and get caught up. We spent most of happy hour with them. Monday Wednesday and Friday the marina has free drinks and beer on tap. The events are well attended. After the happy hour we went back to help with Anamaashi's solar panels and tying up the boats properly. Sam and I ended staying up till 4am getting everything adjusted and water filled.
When we went to start up the water pump after draining and filling the tanks with fresh water it wouldn't pressurize. There were a lot of air bubbles getting into the pump and it took a while. However finally after cleaning out the pre-filter we got better flow and all is well. But 2 hours in the lazzerette looking for why the pump is not working is not fun at 2am.
---
Date:
Tue Aug 29 23:35:00 UTC 2023
Hurricane Prep
Perhaps it will be gentle...
We spent the day today getting the boat ready for the winds tomorrow. we tied up the sails, cleared the deck, tied down the dinghy, put out two lines on each cleat for 2 aft and 1 forward spring, 2 stern lines and three bow lines. We cleaned out all the cockpit scuppers, and re-filled the tanks with water again. Then Moonshine took us shopping so we stocked up on food at Walmart and got the chain for the centerboard. Then when we got back I put fire hose and other anti-chafing gear on any line I thought might need it. I put out the 4 new bumpers and also gave some rope to our neighbor to help him tie up. I'm a bit worried that the boat next to us is going to loose his stern and crash into us. I'll keep a close eye on him. Sam has a video posted on youtube already about our prep for the storm.
Check it out!!
---
Date:
Wed Aug 30 14:13:00 UTC 2023
Hurricane Idalia
Downgraded!
Good morning everyone, We've had one tornado warning and the winds and storm picked up to 35knots and you could only see about 300 yards. We don't have any confirmed touchdown. Sam is live streaming on and off on the youtube site.
LIVE COVERAGE
We had a pretty big leak on the mast boot and I've been trying to minimize that this morning. Hannah and Wanda are at the club house, Sam is streaming, and I'm on the boat. We're as ready as we can be. I have a rope ready to tie off the boat next to us if need be and I just heard good news that Idalia has been downgraded to a 2. Hopefully this will only be a tropical storm when it hits us. The winds right now are 28 knots with rain. Winds are out of the south east (144deg) There are bands of rain that come through every hour or so. They are picking up and getting more severe but so far no lightening, just lots of rain. I will post here every hour or so with an update.
15:54 UTC: Winds have picked up a little bit. No more rain at the moment but the boat is rocking and the wind is howling. Peak winds were 36 knots a moment ago and we're holding steady over 22, well there's 38. I added a line to the boat next to us. We just brought the live stream to the boat.
16:45 UTC: Winds are still 25G35 but they are staying over 25 more and more and the boat is listing to port more often Sam is walking back to the clubhouse with the live feed.
18:09 UTC Winds have died down 15G25 no rain to speak of... the time till the peak winds hit us has been moved back to 17-1800. This is a waiting game I guess.
19:36 UTC Waiting game is over! 55 knots. Grace is pressed hard against the dock and listing 10 deg. Other boats are grinding against the dock without enough bumpers. I'm very glad I purchased the other bumpers. I have all 4 bumpers added to the port side. Some people are measuring in the 60's and dock 4 is having a problem. It might be coming apart. We are on dock 15 which is the newest and best positioned dock. I have probably 20 boats blocking the wind for me. Sam is still walking the dock and streaming! Check out the video. I'm on the boat and grace is doing fine. Hannah and Wanda are in the club house. I'm going to walk up to the club house in a few minutes with Anamaashi. There are several boats with canvas torn and coming off. I see several different wind generators that look like they are going to come apart and fly off and hurt something. Oh... there are a group of Hispanic boys sitting on the rail road tracks above us watching the storm and the marina. I'm sure they're waiting for some excitement to ensue. This is going to go on for then next 2 hours now. The forcast is for 60 knots in about an hour.
20:05 UTC Went up to inspect the boat. we are 45G55 now and it never drops below 45. It's started raining a little either that or it's blowing spray from the water. But everything we did is working. My lines are not slapping, the booms are staying in place, the lines on the base of the mast are staying put and we have the right amount of bumpers. So if you watched the video on our preparations they worked. And so far Brunswick is wonderful, Now that is not to say there will not be damage on this dock. I see lots of boats not prepared so well and they are not faring well, but the docks are solid. I don't think anything can survive 100+ knots and would not want to be pressed against the dock in those winds. We were lucky and got a good dock way back up the channel with lots of wind breaks in front of us. Oh, the power went out about an hour or so ago so we are running on battery at the moment. Power is out all over.
22:07 UTC We have peaked and are on the downward side of the storm I'm seeing 30g42 now and light rain. We went up to the clubhouse for a couple hours and hung out there. We left Lilah on the boat and she was very glad to see us when we came back. We're going back for happy hour if there is one in about 30 minutes. Sam's live stream worked very well. I'm glad everything went well. I'm sure it didn't for other folks in Florida and Georgia but the eye went north and west of us significantly so we got it lighter than expected. Tomorrow we recupperate and start preparing to head north again on Friday. It looks like the winds will be directly out of the north on Friday so we're going up the intercoastal again.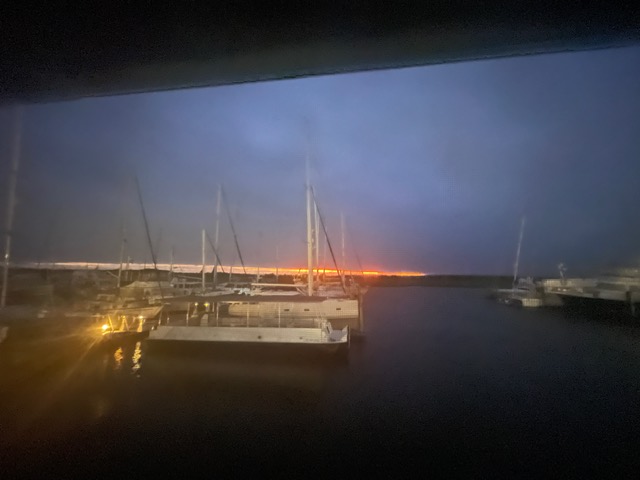 ---