Ships Blog
---
---
Date:
Sun Jan 1 01:00:00 UTC 2023
Happy New Year!
Fireworks!!!
HAPPY NEW YEAR!!! we had the most wonderful fireworks display! from the boat we could see Miami, SouthBeach, Key Biscayne, Coconut Grove, and everywhere in between. There were probably 5 or 6 different displays going at once. They also had an air-show with lighted syncronized drones over the Grove.
---
Date:
Mon Jan 2 03:22:00 UTC 2023
Generator!
The intermittent problem is no longer intermittent.
We have my Melodi and Paul here with us and of course this morning the generator decided to die again. Paul jumped right in and started helping me diagnose the problem. We pulled the control unit apart and started looking at what each relay does. We swapped relays and followed the electrical diagram on the lid of the control unit deciding on different pathways. After an hour or so we found a loose wire on the fuel shut off solonoid. A little re-crimping and cleaning up the all was well. I'm glad we solved the problem and I can trust the Generator a little more now. I was just waiting for it to die again the entire last month. I'm glad it was nothing serious.
In the afternoon and evening we went into town and had pizza at Harry's Pizza with Brad, Stacey, Karlee, and Melodi and Paul. We ate a lot of pizza and had a wonderful evening. Their crust is excelent! Definately a place to stop and eat when you visit the Grove!
---
Date:
Wed Jan 4 01:18:00 UTC 2023
Windlass
Good morning chain locker!
This morning Melodi and Paul had to leave to drive back home. It was wonderful seeing them. So I took them to the dinghy dock at 0600 in the morning. We had a wonderful few days. The boat feels empty now...
Yesterday we went sailing and as we were pulling up the anchor the windlass stopped working. So we had to pull the chain up manually with the lever. This morning we had to get on it to start fixing it. It was working fine and then we pressed the button and it just went click and that was it. There is a relay in the mix, so we press a button and that fires the relay that provides power to the windlass. Sam and I spent most of the day working on it one piece at a time. First we tested to see if voltage was getting to the motor and it was so that eliminated the relay and the wiring. With the thought that it might be the motor I took apart the windlass and removed the motor. I started disassembling the motor to get to the brushes to check them. And all 4 of the brushes were better than 50% good so it wasn't the brushes. That left me a bit baffeled. I called a couple shops in Miami that rebulid DC motors but before I left I decided to test the motor by jumping it straight to a battery. And guess what? It ran just fine. So I started checking the wiring again. I hooked everything back up and checked the amperage between the motor and the positive wire. I could only pull .25 amps not even enough to spark. After hours of tracing we discovered that bolts that hold the windlass to the deck were going through an aluminum cross member that was the ground for the windlass. The dissimilar metals had corroded and we couldn't get enough amps through. After cleaning the connections and putting some anti-corosion spray on them the windlass works great. It was all a bad ground. I feel a lot better about things when they don't require hundreds of dollars to fix.
In the late afternoon Mom and Sam and I went out for ice cream and to pick up my debit/credit card at Fed Ex. We were also going to watch a movie but the theater was closed for some maintenance problem. That evening we went to fresh market to get dinner and then came back to the boat.
---
Date:
Thu Jan 5 02:20:00 UTC 2023
PARTY
We love having guests over!
This morning Hannah went to the laundromat, Sam went to the library to work on the youtube site, and I did some work on the teak. I started working on the trim. I'm going to use epiphanes on the trim and I'm not sure what to do with the other. I made a brush out of part of an old sheet taped to a stick. Worked great! I patched up the eyebrow and started on the port side trim around the cabin top. The linseed oil is going dark, too dark. It's been several months now but I'm not really happy with it. It looks great till it starts darkening.
In the afternoon Hannah went shopping and in the evening we had Clay and Dianne, and Brad, Stacey and Karlee over for dinner. We had a wonderful evening and talked and ate till about 9pm. This is what we consider one of the most important parts of cruising; sharing the experience with friends! Now we're relaxing with some lemonade and rum and running the generator to recharge a little bit. We ran all the lights for a long time.
Just a note about the town dinghy dock here at the Grove, about 75% of the dock space is taken up by derelicts. There is almost always one spot or two but it would be a lot easer if there wern't 1/2 a dozen boats or more full of water and trash, almost sinking, and covered in barnacles. Today we had to use a nearby dock for the marina because there was simply no room to tie up on the town dock.
This morning I couldn't find my passport ID. I had it yesterday when I went to pick up my new credit card at the Fed Ex office. So bright and early I took the dinghy to retrace my steps. I found it laying on the ground near a parking lot where Sam and I, last night stooped down to see of a fallen coconut was good. At that moment Melodi tried to call me and I put my hand into my pocket and as I pulled out the phone the card must of slipped out. After loosing my wallet last week I was a little frustrated at perhaps loosing another ID... I'm pretty sure the same thing happend to my walled last week.
---
Date:
Wed Jan 7 22:46:00 UTC 2023
150 years of the Grove
Free Cake!
Yesterday Morning we got on the trolley/bus at the town hall and rode to Little Havanna. We got a long tour of Miami as we rode there. We got off the trolly a little early and walked for about a mile through town. It was very poor. There were gang signs everywhere and lots of bars on the windows. When we arrived at the tourist area things cleaned up a little but you could tell it was still poor. We ate lunch at a mexican resturant quite a way down 8th street. Then we walked back to the trolley about 4pm. We went shopping in a little local store. They made us give them our backpacks before shopping. They had a little of everything and the prices were more reasonable.
Yesterday evening we went to the 150th birthday of Coconut Grove. They had actors doing impressions of some of the founding families and people of this area from the Victorian era. Then there were free cupcakes afterwards. It was a wonderful celebration. I'd estimate there were about 200 people there. We enjoyed it. Afterward I went to dinner with mom and Hannah and Sam went for cake/pie at a local bakery.
Today we went to a Vegan market on Grand Ave that is there every weekend for the last 30 years. It's about 3/4 of a mile from the town dock. The market is huge and there are lots of very cool vendors. Tons of wonderful food, lots of produce, some local some not. We had a Rikki/massage to help Hannah's neck and my elbow/shoulder. We ate tamales for lunch and sampled a lot of very wonderful food. From Falafel to herbal teas and of course Hannah found some really nice coffee. When you come here it's worth going to this market! We spent most of the day here.
---
Date:
Sat Jan 14 22:00:00 UTC 2023
On the town
Going ashore at Coconut Grove!
For the last week or so we have been waiting for my credit cards to arrive after loosing my wallet. We wanted to leave earlier for Marathon but didn't want to confuse the banks. So we've spent a lot of nice times here. Some of our favourite places are the Fresh Market, the Vegan farmers market and the library. Today we spent the entire day at the Farmers Market and bought a purse, backpack and wallet for Hannah made from hemp. We ate lots of wonderful food trying many of the vendors. We had Columbian Hot Cocao, Egyptian falafel, Thai fried Bali bali(not chicken), Tamale's again, date/nut/keylime torts, fried paroke and Baklava. In the afternoon we talked with Pebble who has a Tartan 30 and is on her way to the Bahamas. She had a slit in her dinghy that looked like it was knifed that she was repairing.
yesterday Hannah and I went out looking to find fast internet. We found internet at starbucks, the book store, Starbucks, The library, and the Coco walk. I needed to download chart updates for navionics and Hannah needed to update her phone and download some movies. So tonight we watched a couple episodes of "Upload" and stayed up too late so Hannah could make fresh sourdough and cookies fo the trip.
---
Date:
Sun Jan 15 23:32:00 UTC 2023
Key Largo
Anchorage at Rodriguez Key
This morning we got up at 05:30 planning to leave Coconut Grove by 0600 but it was cold and dark and we waited till 0700. We motored out past stilts-ville and turned south. Hannah gave us warm wheat berries that had been in the thermos all night. We had about 10g12 out of the North and we made good time till about 1400. Most of the way we managed 4 1/2- 6 knots and then around 1400 the wind died. Lunch was Pasta salad and then we turned on the motor and ran 5 1/2 knots the rest of the way. Skies were clear and a little chilly till afternoon starting out in the 40's but by afternoon it was in the 60's. The seas were about 1-2 feet and we put up all the sails.
I decided to try the Drone since it was a really easy day with not much wind but oh my... it is really hard to fly the drone from a moving platform. For that matter it's difficult to even take off. I broke the first blade just taking off... then I had Sam hold it up and I took off from his hand and I still almost hit the sails. Once I was in the air it was easy and I got some very nice footage of Grace under sail, but then when I wanted to land things got really dicey. Trying to line up the drone with Sam, and flying reversed and with the boat rocking it was nigh to impossible. I know people do it but this was much much harder than I thought it would be. I opted to try and have Sam grab it out of the air but when trying to get close to him I got all dis-com-bobulated and crashed onto the mizzen mast and life lines. I tore up all 4 blades but the drone is fine. Thank heavens! I was sure it was going to go overboad. I don't think it's going to be something I try again soon...
Round about sunset we made it to Rodgiguez key and anchored on the north west side of the island. It's a nice anchorage. We are in 9 feet of water. The charts are not very accurate. Evidently the shoals change a lot so I scouted it out and made several passes to get good depths. Now, Hannah is making dinner and we are going to relax for the evening. In the morning we will be off to Marathon for another 10-12 hour day. Ciao! The boat next to us in the anchorage is flying a flag with a martini on it... too funny.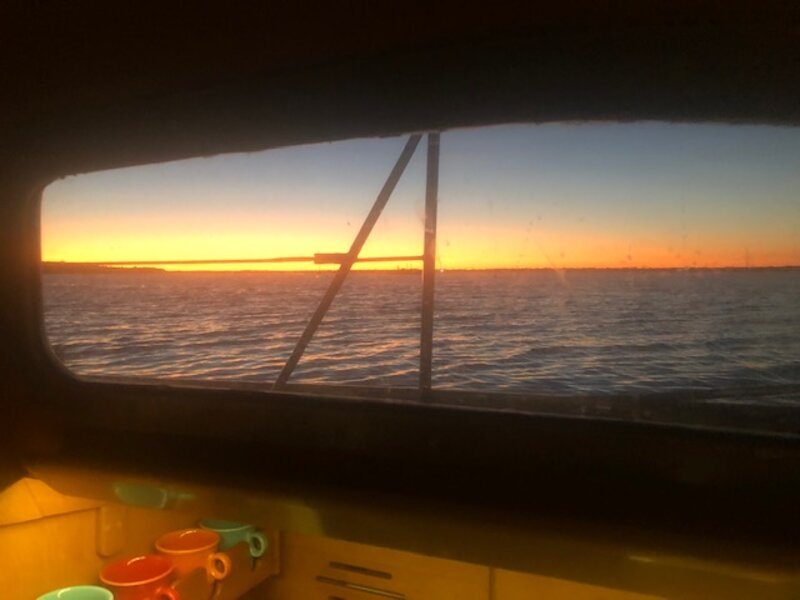 ---
Date:
Tues Jan 17 00:21:00 UTC 2023
Marathon 1
Arrived Marathon at Sunset!
Hi!! We're in Marathon! We arrived today at sunset. It was another beautiful sail in the morning with an afternoon of no wind. We weighed anchor at 8am and started sailing heading 230. The wind was 7-10 knots out of the north west and we were on a reach or broad reach all morning at about 4 1/2-5 knots. The seas were calm and the sky was clear. It was a little chilly in the morning in the low 60's but in the afternoon it was very pleasent in the lower 70's. We put up all the sails and had a wonderful day! Around 1400 local the wind started to calm down to 4-5 knots so we put in the sails and started motoring. At around 16:30 it picked up again but we didn't feel like sailing by that time and we were near the anchorage so it wasn't worth it for just an hour.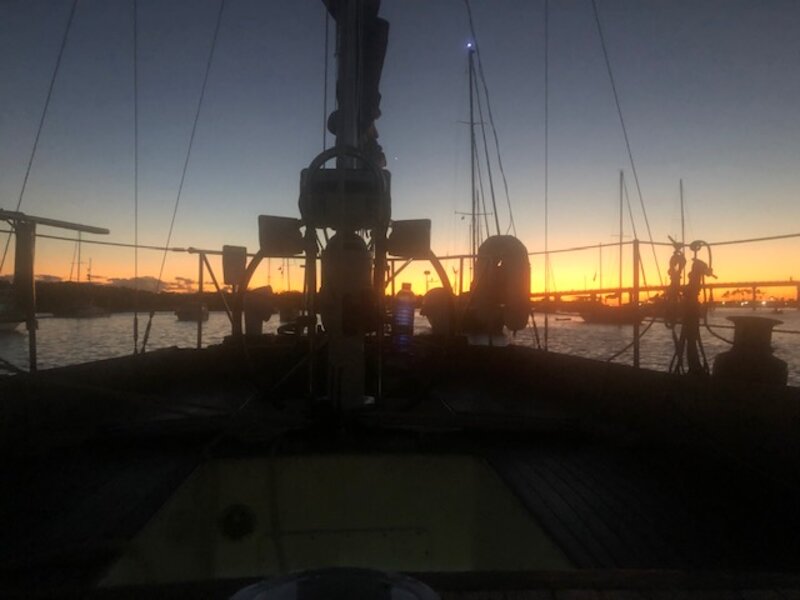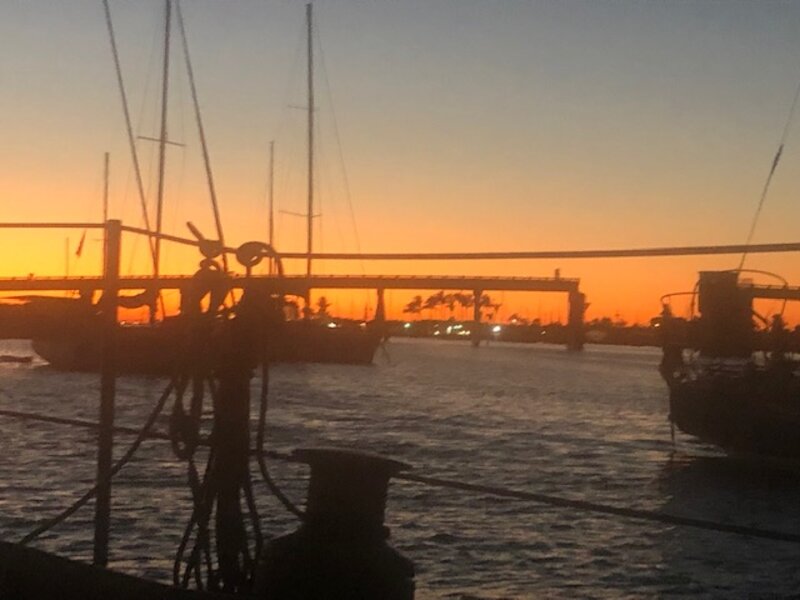 There were about 10-12 boats anchored outsie the harbor and after entering I know why. The channel is only 8 feet at high tide and very narrow. Also once inside there ware a hundreds of sailboats and the anchorage is very crowded. I think I found the last spot available. But we're here and safe and it's very peaceful. The trawler next to us came out to ask where we were in from and say hello. We're in 9 feet of water with 30 feet of chain out. I couldn't let out much more because of how tight everyone is.
---
Date:
Tues Jan 18 00:31:00 UTC 2023
Marathon 2
First day ashore
Today we went to register at the city marina. It's really easy. They charge $22/day $89/week or $225/month. This gives you full access to the marina and the dinghy docks. The facilities are extensive. The Dinghy dock is the best I've ever seen. There is a library, 2 TV rooms, internet access, charging stations, showers, Laundry ($3/load), bike rental, corn hole, a community garden, covered picnick area, water ($.05/gal), mail service including USPS, FedEx and UPS, Pumpout weekly at your boat, storage lockers, work room for boat projects and probably more. You need registration for your boat and dinghy and ID to sign up at the office. Oh, and there is a morning net on 80A vhf every morning at 9am.
West Marine is about 1 mile away. There are two thrift stores, haulout, resturants, publix, the library, a sea turtle rescue and education center, a hospital, a city park with basketball, tennis, workout area and playground all within walking distance.
All this being said, the anchorage is really crowded. There are hundreds of boats here and the waiting list for a mooring ball is long. The area to anchor is small and pretty full. We did squeeze in near the bridge. There is more anchorage about 2 miles from the marina outside the harbor. Fuel is outside at the mouth of the harbor. Inside the water is quiet and the entire area is a no wake zone.
We met a wonderful couple today and two of their children on an O'Day 25 about 30 yards from us. They have logged over 4000 miles together and seem to really know what they are doing. They have a youtube channel and facebook as well that I'll put on the links page. We love meeting new people and the boating world is different than other "clubs". Everyone helps eachother out and there's something about the comradship of the sea that I find very refreshing. Oh and two more of our friends from Blackbeards are on their way and should be here by Friday.
We're back at the boat now and Hannah is making dinner. Tomorrow we will get water and fuel. Night Night.
---
Date:
Thur Jan 26 01:56:00 UTC 2023
Marathon 3
Work, Play, Eat, Repeat
The last week has been busy :) Sam and I have been working on the Teak every day and going to get water every time we dinghy in. Hannah has been experimenting with making Scottish shortbread. We went swimming at the beach on the other side of Sisters creek and Sam's been working on youtube.
Yesterday evening we had a scare. I went to start the engine like I do every week and nothing, nada, cranked smoothly but no start. I spent a little time with it till about 9pm and went to bed. Then I got up at 3am because I couldn't sleep and read everything available about the Nanni 4.220HE engine. In the morning I re-checked the filters and bled the fuel system and it started. I had to crack all four injectors and it started when I cracked the last one. But in the process I found that the exhaust elbow I just replaced a few months ago is completely rusted and leaking again. So I asked again on the radio for someone who might know a good welder. I was really worried something bad had happened. But sigh of relief all is well and today we could go to the beach in peace.
This evening we went out to eat at The Oversea bar and grill. The food was marvelous. And we attended a meeting for the group of boats going to the Bahamas on the 1st. I'm not sure we will be ready to go with them but we are thinking seriously about it. All our friends were there and some new ones we met as well. Now it's time for bed but before I do I'm going to lay on the deck and look at the stars. Without the light polution of the big cities the stars are so amazing. This is a fantastic anchorage. It's calm here even when the winds are 30kn in Hawk channel. There is almost no current and the tides are minimal. The tempratures have been in the 70's and clear skies. I can see why there is such a big boating community here. And everyone is so so nice. No one lockes there stuff up, everyone helps eachother, The city sends out a boat to pump out and there's even a couple community gardens for the boaters.... well I need to go look at the stars before bed. Sometimes we leave the forward hatch open and we can see the stars from our bed. nite nite.
---
Date:
Fri Jan 27 03:05:00 UTC 2023
Key West
Playing Tourist and investigating a new anchorage
This morning we got up before dawn and left that boat at 6:30 headed for the bus stop. Sam brought us to the dock and Hannah and I walked with some friends to the bus stop where we picked up the south keys shuttle to Key west at 07:30. It is about a 1 1/2 hour ride for $4.00 each way. The bus stops just south of the marina about 1/4 mile on the west side of the road right by the police station. They accept exact change only in cash or you can use an App. The ride was pleasant and we got so see a lot of the road and keys inbetween. The old bridge is in very bad condition and collapsing. Just before pidgen key it is still maintained. But after that it's really interesting to look at how it is weathering. There were many people that appeared to be commuting on the bus. We met an interesting man from France who is here on a Catamaran.
When we arrived in Key west we stayed on the bus all the way to the waterfront by duval street. We immediately went to the dockmaster to get rates and talk about where to anchor. We also looked out at the choppy water and how far the boats were out. It did not look pleasant out there but the water was very clear and calm near the docks. There were a couple old wooden schooners that were docked there for charters that were really amazing. Then we went to find breakfast. We ate at Kermit's and had a typical 2 egg breakfast with meat, toast and fruit with pancakes and key lime syrup. After breakfast we went into the store to see all their key lime products. It's actually quite amazing. There was lime hot sauce to key lime soap, peanuts, jellybeans and more. They will even ship pies to you. I had no idea how many items could be made with key lime. Everything in the store was green and yellow. You need to check out this store if you come to key west. They also have frozen key lime pie on a stick dipped in white or standard chocolate. Kinda like a big key lime klondike bar with more chocolate. Then we had hand made ice cream and eventually some really nice coffee. We walked by the Little White house from Truman, The banyon tree house, the first Pan-Am office, and up and down Duval street looking at all the shops. It was pretty busy even for a Thursday morning. And people were drinking early. There were buy one get one free Mamosas for breakfast. We caught the 14:13 bus and made it back to the Marina around 16:00. In the evening Hannah and I did the wash and we listened to the jam session that is every Thursday night at the Marina. It was a long day. We just finished some beef stew and we're getting ready for bed now. Tue Jan 31 23:02:00 UTC 2023
Marathon 4
Working on the boat and enjoying the harbor
The last few days we have spent working on the deck. Sam and I are sanding and varnishing and cleaning up the deck. So far it's going very well. We are using epiphanes with a 3:1 dilution for the first coat.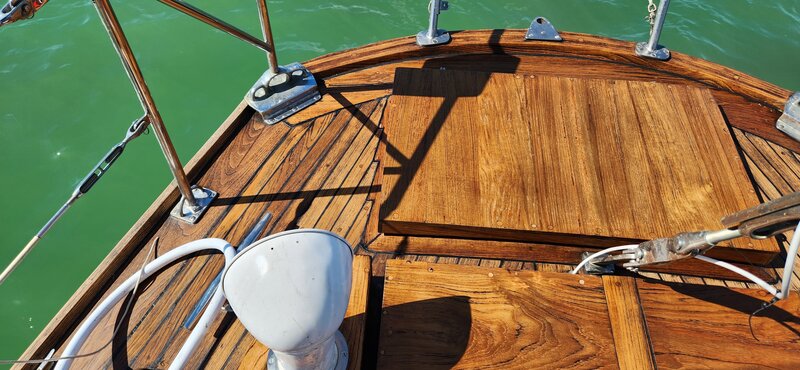 Life in the harbor here is really nice. We are meeting a lot of wonderful cruisors. The boat behind us is named Grace O'Malley. (and we thought we were being original) There is a tremendous variety of people here. Many serious sailors who have been and done interesting things. There are folks from all walks of life. Rich and Poor, Sailors and houseboaters, locals and foreigners, young, old, republican and democrats, Musicians and vetrans. It's very difficult to remember everyone. There are about 350 boats in the harbor and not a theif in sight. The boaters police them selves and everyone seems to get along just fine. We played corn hole today and lost 3 times but it was a lot of fun! Thursday is Jamm session and card playing, Friday is Happy Hour pot luck, Saturday is a swap meet and I've been given 2 solar panels and a charge controller